You just started your design project and you are gathering reference or inspirational material. You've downloaded a bunch of images online so now you have a folder on your desktop full of great references. But you find yourself manically tapping at your keyboard trying to navigate those images or squinting at the tiny thumbnail previews that don't get as large as you would want them to. Hey, you found a website that helps you visualize those images. Great! Ah hold on - you have to create an account, pay a monthly fee, and wait for the images to be uploaded to the server... But you just wanted a fast and clean way to display your images!
Moodboarder allows you to drag and drop your local images to your browser of choice and display them in an adjustable grid. That's all. Everything is local so happens in an instant and stays private. Oh, and it's free! Why? Cause there are no maintenance costs to it. Simple.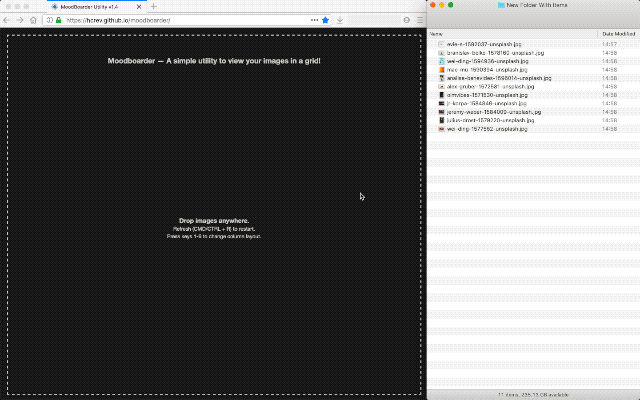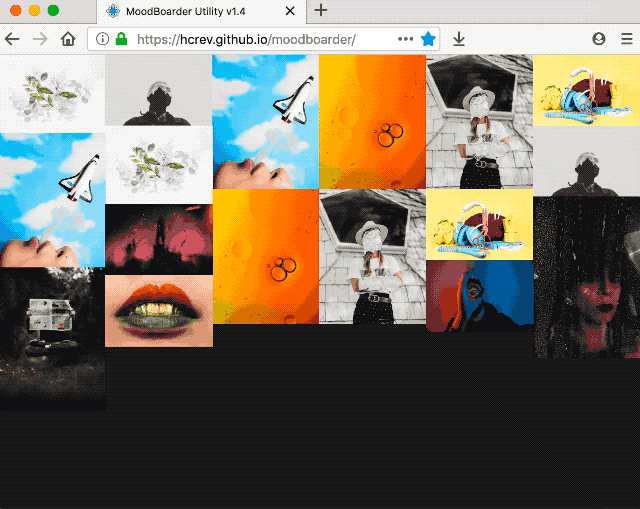 Why a Mood Board?
A mood board is a fantastic way to display a set of image in a cohesive, clean, and clear way. No distractions! It can be used for a presentation - showcasing colors, styles, or moods.
Save your boards with Firefox
When using Moodboarder on Firefox you can take advantage of the "Take a Screenshot" functionality to take a screenshot of your mood board and save it. Other browsers may offer a similar functionality.